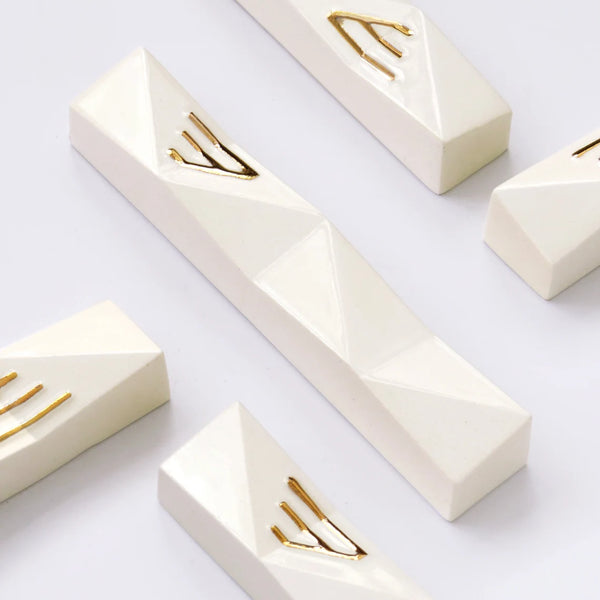 Mezuzah case - White with gold Shin - Large size - for 4.8'' scroll - Modern judaica
A modern Mezuzah case in contemporary geometric Judaica style, an original Israeli design gift for wedding, or trendy housewarming Jewish gift.
Made of white ceramic, glazed with transparent glossy glaze, the letter Shin glazed with gold or silver luster - your choice, it fits lovely modern sophisticated interiors.
This Mezuzah case is designed and handmade in Israel, a perfect gift from Israel that present the local contemporary vibrant design scene.
Materials:
white Ceramic, transparent glaze
The letter 'Shin' embossed, and glazed with18K gold luster, or with silver luster, your choice.
<> The final color of our products is off white / cream (not snow white).
The white tone is an outcome of the natural liquid clay color after it is burnt and the addition of a translucent glaze.

<> Slight changes in color may accrue in different productions batches.
For pair, or sets orders - we will choose similar tones for all items in the order.
Measures: 
Measures: (1.1 X 6.2 X 1 h inch) 2.7 X 15.5 X 2.5 h cm

Scroll :
The Mezuzah case fits a 4 inch (12cm) scroll
<> We offer an option to purchase a fitting Kosher Mezuzah scroll, choose 'Add a scroll' when you check out. Our Mezuzah scrolls are hand written on a Kosher parchment by a certified scribe ('Sofer-Stam') <>          
Handmade in Israel.


How to mount a Mezuzah on a doorpost?
The Mezuzah case is ready to mount, it has 3M Heavy Duty Double-Sided Mounting Tape on its back. No need to drill holes or use any hardware.