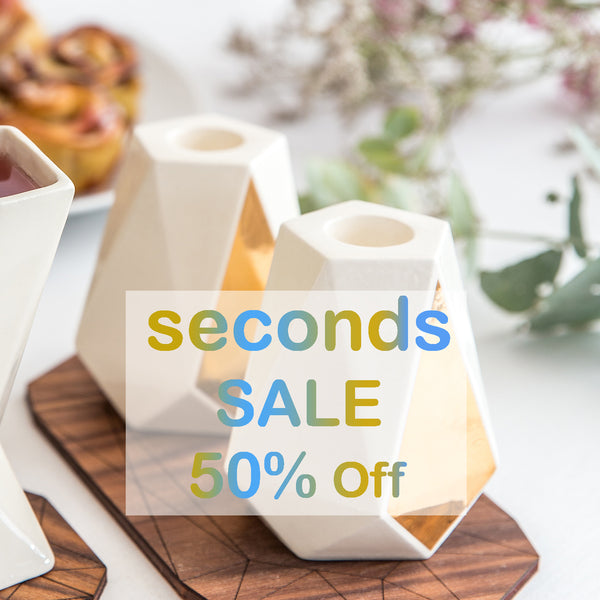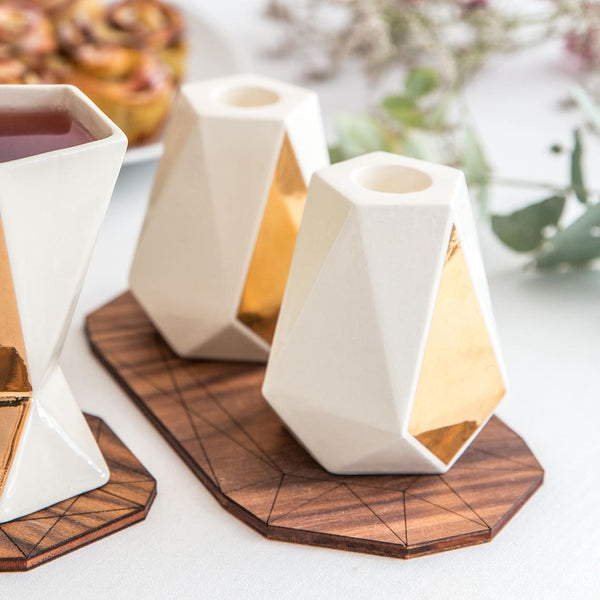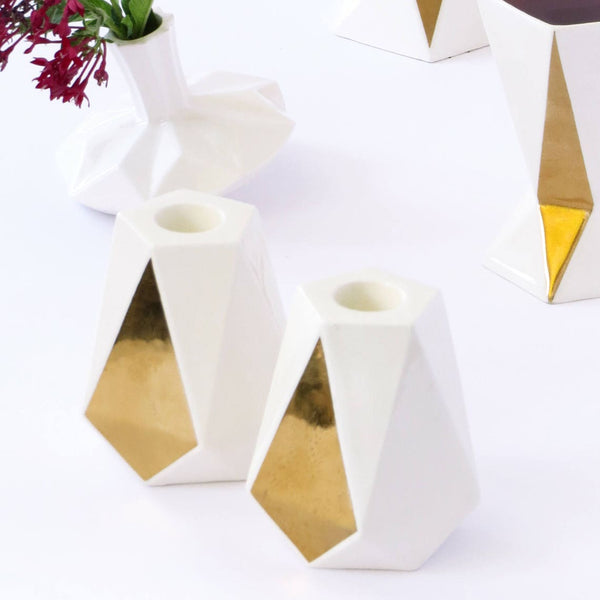 Imperfection Sale - 50% Off - Pair of Shabbat Candlesticks White Ceramic With 24K Gold Decal , Geometric Candleholders
Regular price
$125.00
Sale price
$62.50
---
<> Seconds / Slight imperfection SALE - 50% Off <>
Due to the nature of our handmade products –sometimes things go wrong.
This item is offered in discount - Since the gold leaf decoration had some malfunctions in its manufacturing process - the gold may have some tiny folds or cracks, and/or the gold tone is not homogeneous.
These candlesticks are still functional and beautiful – some may say the malfunctions even add a signature of their hand process creation.
**Wooden trivet is not included**
<> Please note that Seconds items – are sold as is - no refunds, returns or exchanges. <>
________________________________________________________________________________
Pair of geometric pentagon candlesticks designed in modern style. These candle holders made of white ceramic with transparent glaze and 24K gold decal fits tall festive candles or Shabbat candles in traditional glass cups.
This pair of candleholders is a perfect housewarming gift, the gold design add a trendy and elegant look to your holiday table.
Materials: white ceramic, glossy glaze, 24K gold decal
Measures of each candlestick: 2.8 X 2.8X 3.6 h inch (7 X 7 X 9h cm)
<> The final color of our products is off white / cream (not snow white).
The white tone is an outcome of the natural liquid clay color after it is burnt and the addition of a translucent glaze.
<> Slight changes in color may accrue in different productions batches.
For pair, or sets orders - we will choose similar tones for all items in the order
***Handmade in Israel***