Modern Shabbat Set, Pair of Hexagon Shabbat Candlesticks+ Kiddush Cup, Minimalist Design, Geometric Style
Set of geometric modern Judaica: Kiddush cup + Pair of geometric candlesticks designed in minimalist style. 
This elegant Shabbat set is handcrafted of ceramic with transparent glaze.

The set is perfect as a trendy Judaica gift, for wedding, Bar-Mitzva or any other Jewish celebration and holydays.
Additional to this ceramic set you may choose wooden cup's coaster. Produced in Laser-cutting, decorated in gem shaped pattern.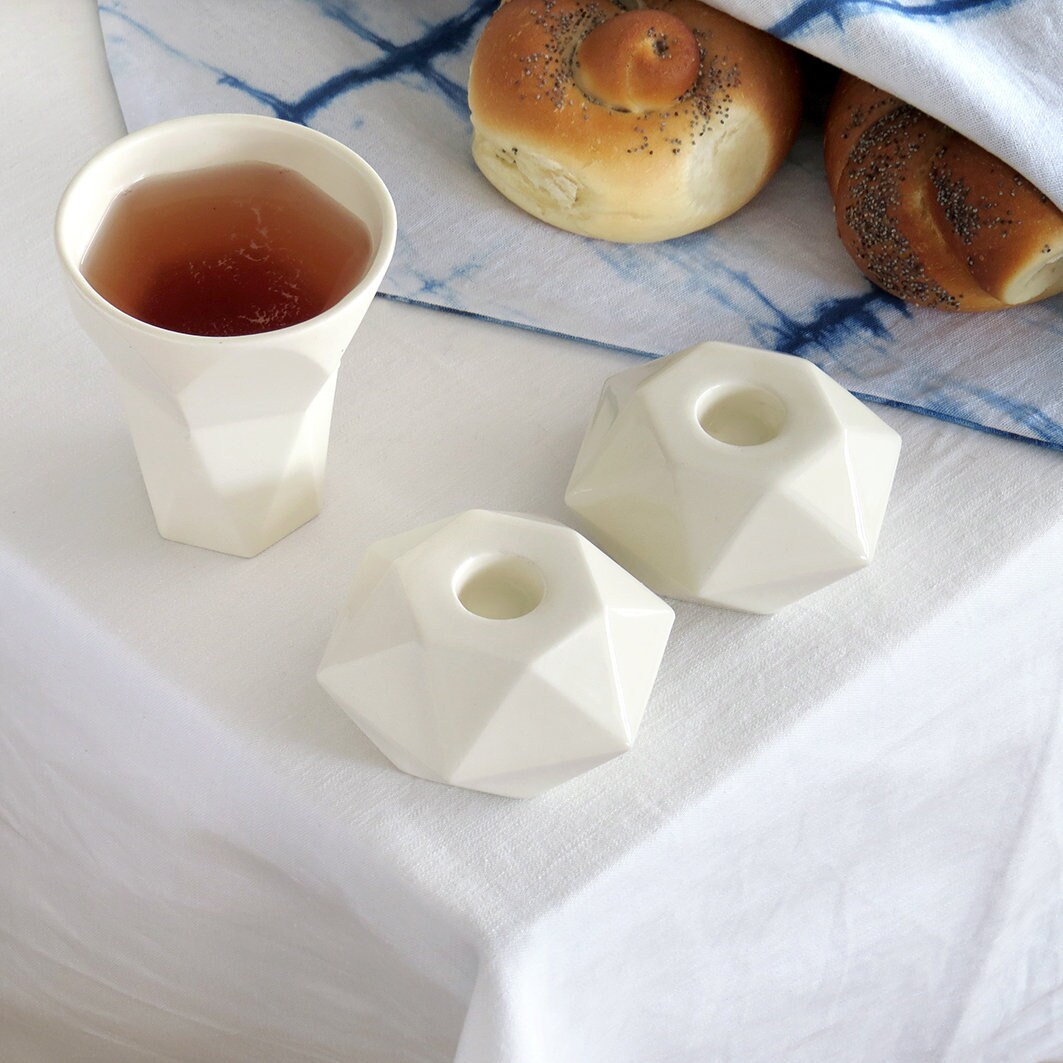 Materials: White ceramic with transparent glaze
<> The final color of our products is off white (not snow white).
The white tone is an outcome of the natural liquid clay color after it is burnt and the addition of a translucent glaze.

Measures of each candlestick: 3.6" X 3.6"X 1.8"h (9cm X 9cm X 4.5cm h)
These candlesticks fit 0.8'' (20mm) dia. 
Measures of Kiddush cup: 4"h X 3.2" (10cm h X 8cm)
The Kiddush cup holds 7oz of liquid approx. (200ml)

Cup's coaster : 4 X 3.8 Inch (10cm X 9.5 cm)

Handmade in Israel.

Package: Our products packed in stable cardboard boxes, specially designed for shipping worldwide


<> How to handle Kiddush cup:
- Use for Kiddush wine only.
- Rinse with a very small amount of water
- Do not put in dishwasher

<> How to remove wax drops?
- Use plastic card or credit plastic ruler to gently scrape wax drops off the candlesticks' surface.
- Very gently drip hot water over the candlestiicks , to remove remaining wax spots.
- Do not put in dish washer.