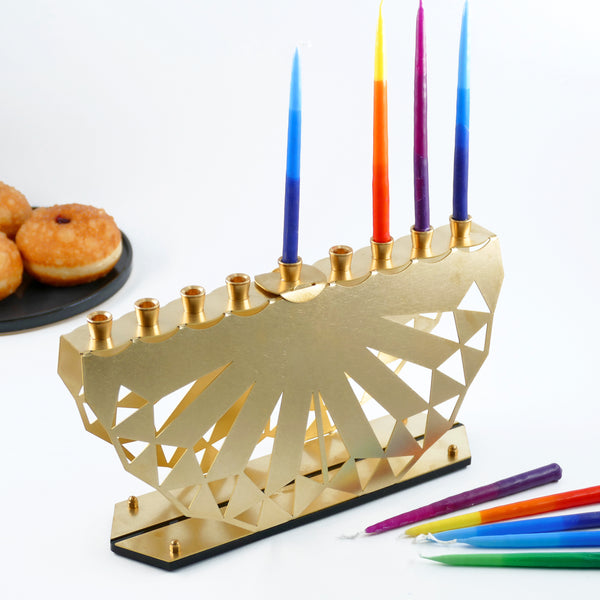 Hanukkah Menorah, Paper Cut style, Made of Brass, for Oil or Wax Candles, with Glass Cups
This contemporary design of traditional Hanukkah Menorah - is inspired by the art of paper cut, made of brass in laser cut technique, the Menorah's pattern creates a bright Mandala design, The Chanukia is folded to a 3D objects, its double walls with cut out shapes - are thin and gentle in the one hand, and performs a rich look that changes in different angles of view. 
This Menorah fits regular wax Hanukkah candles, and includes 9 glass cups - for 'Hidur Mitzvah' - oil candles.
In addition to the eight nights of Hanukkah, you will be delighted to place the Menorah on display in your home all year long.
Looking for an original present?  It is a perfect wedding gift or housewarming gift for your precious friends and family. 
Material: Brass, Glass, Acryl

<> Slight changes in color may accrue in different productions batches.
For pair, or sets orders - we will choose similar tones for all items in the order.
Measures: 30cm X7cm X 14cm h (11.8" X2.7"X 5.5"h)
Package: Our products packed in durable cardboard boxes, designed for shipping worldwide
Handmade in Israel
<><><><><><><><><><><>
✦ How to Place Hanukkah candles in this Menorah?

Brass canes should fit most common Hanukkah candles.
<> Candle holes shape is cone, measures - 10.5mm depth, 9-10 mm diameter
In case the candle is a bit narrow than the cane hole - it is very recommended to stick each candle with its own melted wax, follow these instruction:

- Melt each candle's edge, with the flame of another candle - the 'Shamash'
- Hold the candle in its place for a couple of second until the wax cools and become solid.

<> The wax that drops inside the holes + the melted edge - stick the candles in their place !


------------------------------------------------------------


✦ Cleaning information:

● How to clean wax drops:
● Use a plastic credit card or a plastic ruler to gently scrape wax drops off the menorah's surface.
* Do not use any metal rules or knife, etc. for this action - to avoid scratches
● Very gently drip hot water over the Menorah, to remove remaining wax spots.

● Use cloth, small brush, or any gentle cleaning tool, with warm water and soap - to clean the candle holes.
● To remove finger prints, and shine the Menorahs surfaces - rub a slice of fresh lemon.

● Do not put in a dishwasher.