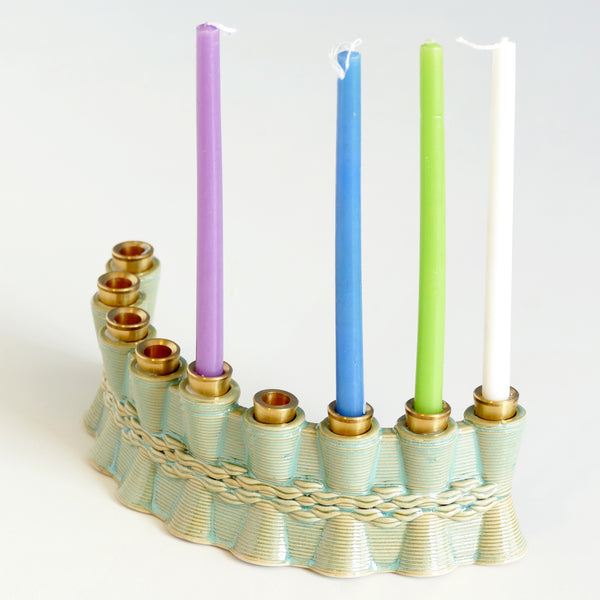 OOAK Early Bird 25% Off - Hanukkah Menorah for Early Adopters - 3D Printed Clay - Weaving Pattern with Mint Glaze
Regular price
$195.00
Sale price
$146.00
---
This innovative Hanukkah Menorah has an arc shape with weaving pattern - created in a unique method by a clay 3D Printer. Its gentle details and modest proportions - make it look like a jewel.
The Shamash placed at the middle of the arc.
We invite Judaica design lovers and early adopters - to join our design journey - and order some of the very first clay 3D printed Judaica in 25% discount!

Our progress as contemporary Judaica designers - brought us to start a completely new collection of ceramic items - printed in our new clay 3D printer.

Please note that some imperfections and exceptions may apply to these items, since we are still learning the technique of printing clay, glazing and burning it in the kiln.
Yet - these items are functional, and above all - innovative and bring the newest design trends to your Jewish holidays table <3

Materials:
3D printed Clay in its natural sand shade, Mint Glaze.

Brass canes carved in a local workshop exclusively for Armadillo Judaica.
Measures:
Menorah - 18 X 8.5 X 5.5 h cm (7.2 X 3.4X 2.2 h inch)
Canes should fit most common Hanukkah candles..
Each Candle hole shape is cone, measures - 10.5mm depth, 9-10 mm diameter

** When the candles are lit - keep your eyes on it, never leave a burning Menorah with no supervision.
┌───────────┐
Handmade in Israel
└───────────┘

** Actual colors may appear different from the images shown here, due to differences between monitors and light conditions.**

✦ How to Place Hanukkah candles in this Menorah?

It is very recommended to stick each candle with its own melted wax, follow these instruction:

- Melt each candle's edge, with the flame of another candle - the 'Shamash'
- Hold the candle in its place for a couple of second until the wax cools and become solid.

<> The wax that drops inside the holes + the melted edge - stick the candles in their places. 

------------------------------------------------------------

✦ How to clean wax drops:

- Use plastic credit card or plastic ruler to gently scrape wax drops off the menorah's surface.
- Put the Menorah in a sink and then, very gently and safely pour hot water over the Menorah, to remove remaining wax spots.
- Do not put in dish washer.

---