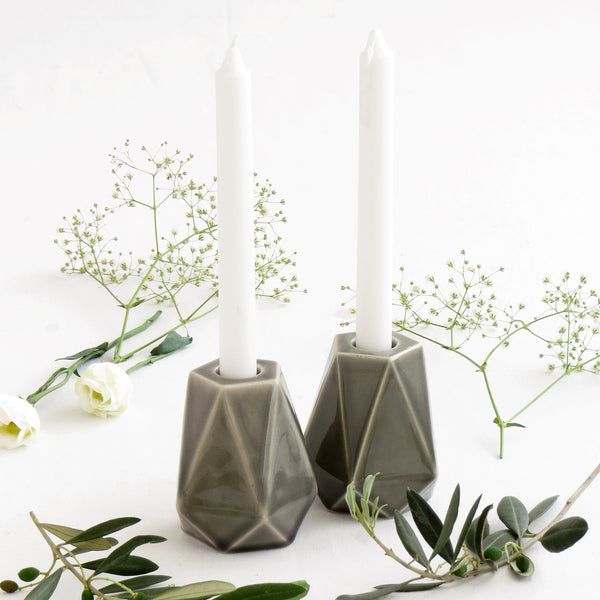 Pair of Grey Shabbat candlesticks - ceramic, geometric style, pentagon shape, in shade of psatel colors
We are happy to notify that the economic shipment service we offer can reach to you within 14 business days, no more delays.
If you need your order earlier - you may upgrade to express shipment - for a 3-5 days delivery.
Pair of Shabbat candlesticks - handmade of ceramic, designed in geometric style, featuring a pentagon shape and available in a varaity of shades of pastel, this modern Judaica candle holders are a meaningful Bat - Mitzvah gift, or a trendy housewarming gift to a new Jewish home. Your choice of grey, pink, light green, yellow and white.
** as seen at rebateszone Christmas gifts ideas 2016
Materials:
White ceramic with transparent glaze
Measures of each candlestick:
colored candlesticks: 2.8 X 2.8 X 3.2 h inch (7 X 7 X 8 h cm)
The candlesticks fits 0.8'' (20mm) dia. Shabbat candles.

Handmade in Israel.
Package:
Our products packed in stable cardboard boxes, specially designed for shipping worldwide
<> How to clean wax drops?

<>Use plastic card or credit plastic card or ruler to gently scrape wax drops off the candlesticks' surface.
<> Very gently drip hot water over the candlesticks, to remove remaining wax spots.
<> Do not put in dish washer.


---